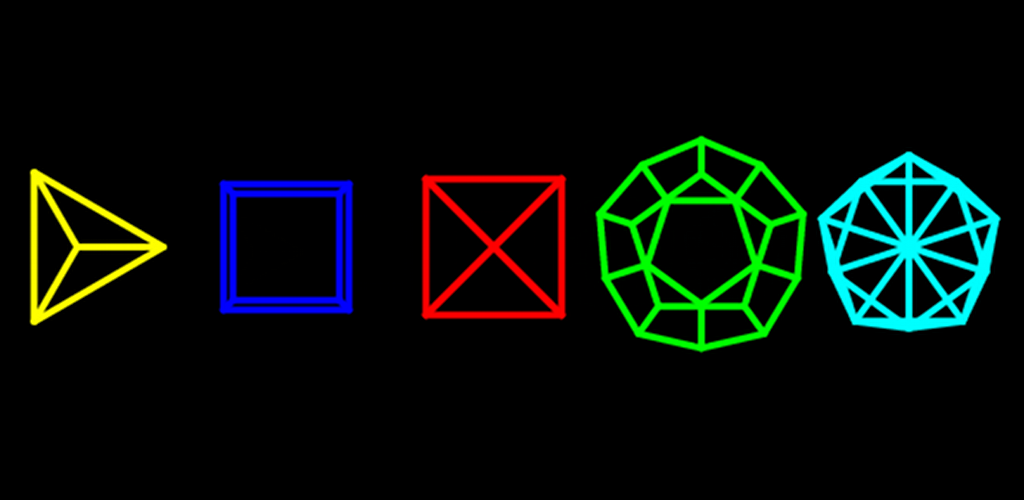 What is this?
This is a live wallpaper application for Google Android (2.1+) phones/tablets/MIDs that displays rotating Platonic solids. All five polyhedra (the tetrahedron, the cube, the octahedron, the dodecahedron, and the icosahedron) simultaneously rotate on the home screens.
Please let me know any suggestions that you have to tweak the software for your use.
No ads nor special permissions required.
Concerns? Suggestions? Please email me at:
android(-(-(AT)-)-)orbitingpluto.net
Download
Get it here:


Download from Android Market
Download from AppBrain
Published Revision History
Version 1.1.20120408
Polyhedra can now travel along a sinusoidal curve for large polyhedra.
Launcher app icon added to load wallpaper selection menu.
Version 1.1.20111002
Ride the sinusoid! Polyhedra travel along a sinusoidal curve.
Version 1.1.20110928
Version 1.1.20110911
Improved frame rate.
Polyhedra now spin at different speeds.
New option to allow large polyhedra.
Greyscale option.
Improved glow effect.
Scroll across virtual screens to see all of the large polyhedra.
Shade effect for single color polyhedra.
Version 1.1.20110705
Support for very high resolution tablets.
Settings activity to configure options.
Multicolor polyhedra.
Glow effect.
Blur effect.
Toggle background darkness.
Optimized edge sorting algorithm.
Option to allow freezing of polyhedra rotation.
Version 1.0.20110422
Removed stopping of rotation by touch.
Version 1.0.20110421
Suggestions and To-Do List
If you would like to help with localization to your language, please let me know! I've noticed many language translation web referrers in my web statistics.
Please submit your suggestions!